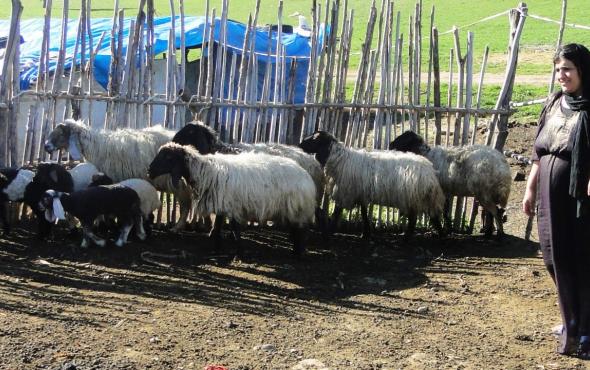 Raising sheep in Iraqi Kurdistan
In 2015, Shaima and her daughter arrived in Belgium. As she did not have any certainty about the asylum procedure's outcome, she eventually decided to return to Iraq. Upon her return in Duhok, in Iraqi Kurdistan, she was able to make use of reintegration support to start raising sheep.
Uncertainties in Belgium
In 2015, Shaima applied for asylum in Belgium together with her 7-year-old daughter. She hoped to create a better and more stable future in Belgium for herself and her family. During the asylum procedure she and her daughter stayed at a reception centre. However, she found it difficult to be separated from her husband without knowing how long it would take before a decision would be made about her dossier. She also saw little work and future prospects. Therefore she returned to Duhok (Iraqi Kurdistan) in February 2016.
A sheep farm outside of the city
Together with Caritas Belgium, Shaima discussed possible future plans in Iraq and her work experience. She settled on buying sheep, as she lives outside of the city and used to raise sheep with her husband.
In Iraq she had another meeting with the reintegration counsellors to make her plans concrete. It turned out that a sheep farm was indeed the best option to create an income for her and her family. A detailed project plan was drawn up, based on her experience and income, as well as on potential customers and possible risks. Her husband, who is older, can no longer work but would be able to help out sometimes.
After consulting a partner organisation of Caritas, the decision was made to purchase 6 sheep using the reintegration budget and additional own funds. It was important to carefully think about this choice together with Shaima, so that she would be well aware of the possible risks: cattle may quickly die from diseases and a lack of vaccinations.
Sale of yoghurt and cheese
Using the milk of her sheep, Shaima makes yoghurt and cheese, which she sells. Her daily income ranges between 20 and 30 dollars. Shaima and her daughter are happy to be back with their family and are further monitored by the reintegration counsellors in Duhok.
Source: Caritas International