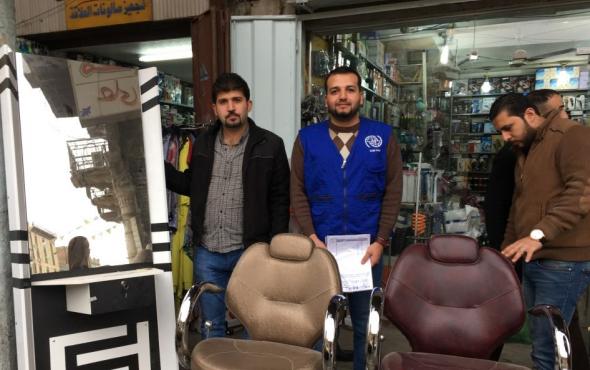 Once again a barber in Baghdad
Like many other Iraqis, Mohammed left for Europe in 2015. Once he learnt in Belgium that his family would not be able to join him soon, he returned to Baghdad via the voluntary return programme. He was able to receive support for his reintegration and established himself as a barber.
In Belgium via the Balkan route
Mohammed left Iraq in May 2015. After two weeks in Greece, he arrived in Belgium via the Balkan route. His wife and two daughters had stayed behind in Baghdad and his main goal was to bring them to Belgium. He applied for asylum in Belgium in July, meanwhile staying in a Red Cross centre. As soon as he arrived at the centre, he became aware that the road to family reunification would take longer than expected and late August 2015 he decided to return to Iraq.
Back in Baghdad
When he was younger, Mohammad had worked with his father as a barber/hairdresser. However, before returning to Baghdad, he planned on becoming a taxi driver. "He knows the city of Baghdad well and saw this as a quick way to make money for his family", the reintegration counsellor of IOM Belgium explains.
Upon his arrival in Iraq, Mohammed contacted reintegration counsellors of IOM Iraq. He soon realized that his plan to become a taxi driver would cost a lot of money (permit, insurance etc.). Instead, he decided to start working as a barber.
After a few days of searching, he found a suitable space to rent in a shopping centre. He used the money he received for his reintegration to buy two barber chairs, two mirrors and other equipment.
A successful reintegration project
For three months now, Mohammed has been working on a self-employed basis and is beginning to have a regular customer base. He is able to meet his family's needs. He is no longer thinking of going back to Europe. The journey to Belgium made a great emotional impact on him and he does not want to put his family through the same ordeal.
Source: IOM